Migración de clase media. Movilidad, vida cotidiana e identidad de migrantes argentinos en Santiago de Chile / Middle-class migration. Mobility, everyday life and identity of Argentinean migrants in Santiago de Chile
Palabras clave:
migraciones, identidad, vida cotidiana, habitus, Argentina, Chile, migrations, identity, everyday life, Argentine
Resumen
El presente artículo indaga el modo en que los migrantes contemporáneos de clase media argentinos configuran sus identidades en la ciudad de Santiago de Chile (2000-2012). Se dará cuenta de las prácticas cotidianas, las adhesiones, identificaciones, negociaciones y disputas que los migrantes llevan adelante en el marco de las sociedades de recepción, reconfigurando sus identidades individuales, grupales, colectivas y nacionales.

This article aims to analyze the characteristics and configuration of the identity of the current Argentinean middle-class migrants in Santiago de Chile (2000-2012). It focuses on the everyday life experiences, the identifications, negotiations, disputes and joining that migrants develop in the frame of the reception society, where they reconfigure their individual identities, and the collective and national ones.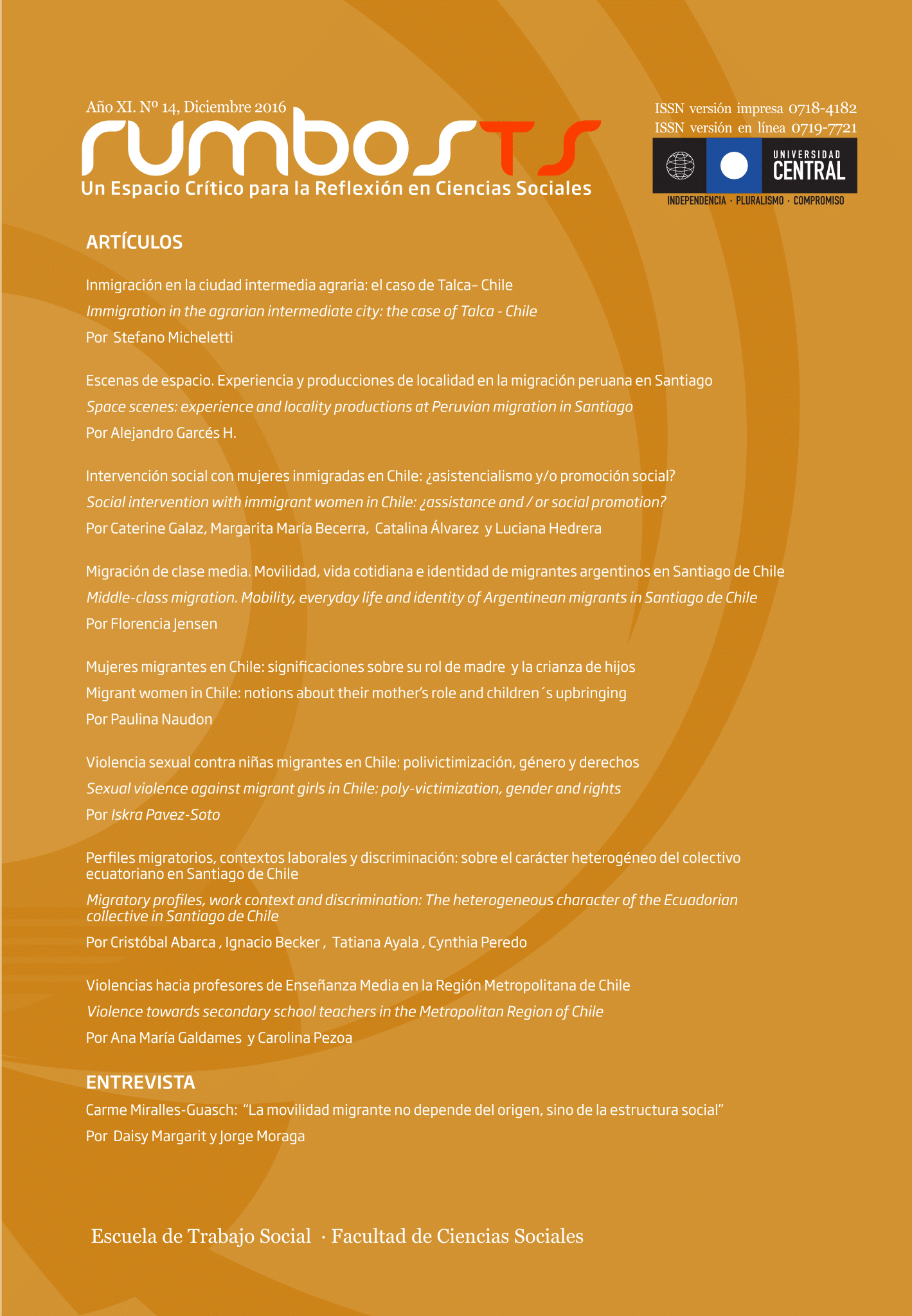 Cómo citar
Jensen, F. (2016). Migración de clase media. Movilidad, vida cotidiana e identidad de migrantes argentinos en Santiago de Chile / Middle-class migration. Mobility, everyday life and identity of Argentinean migrants in Santiago de Chile. Revista Rumbos TS. Un Espacio Crítico Para La Reflexión En Ciencias Sociales, (14), 77-98. Recuperado a partir de http://revistafacso.ucentral.cl/index.php/rumbos/article/view/36