Interview Douglas D. Perkins: "Social Work has learnings that allows to achieve more power and impact through working effectively with groups of people"
Ana María Galdames Paredes

Julio Bustos G.

Rafael Reyes G.
Resumen
Douglas Perkins is recognized worldwide for his work in Community Psychology, social capital development, citizen participation, empowerment and sense of community. He is currently the founding director of the PhD "Research and Community Action" in the Department of Human Development and Organization and Community Studies Center at the Vander at the Vanderbilt University. He also serves as associate editor of the journal Psychosocial Intervention. He has linked research and teaching with participation in various community organization projects, migration networks, public education and health, among others. His academic work also includes topics on ecological change, evaluation of programs and development of research methods with communities. He has also developed interdisciplinary studies about the relationship between social psychology, law and public policy. The following interview was made during her visit to Chile in October 2018.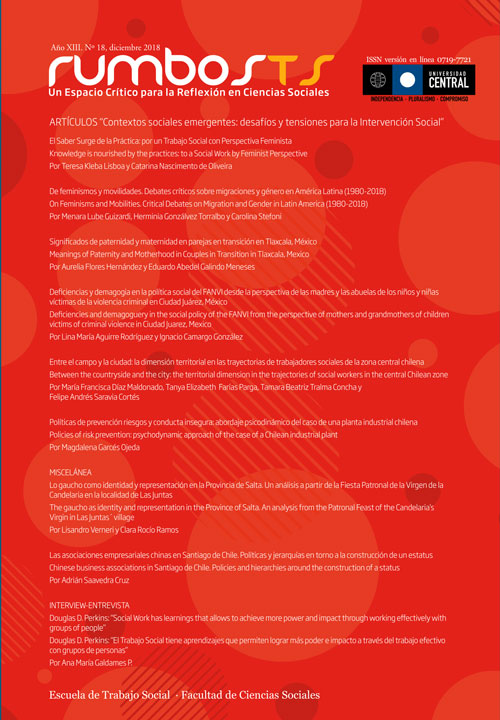 Cómo citar
Galdames Paredes, A., Bustos G., J., & Reyes G., R. (2018). Interview Douglas D. Perkins: "Social Work has learnings that allows to achieve more power and impact through working effectively with groups of people". Revista Rumbos TS. Un Espacio Crítico Para La Reflexión En Ciencias Sociales, (18), 228–238. Recuperado a partir de http://revistafacso.ucentral.cl/index.php/rumbos/article/view/15