Análisis de la experiencia de innovación curricular en la Escuela de Trabajo Social / Analysis of an experience in curricular innovation of the School of Social Work
María Eugenia Letelier G

Daisy Margarit S.
Palabras clave:
Trabajo Social, Innovación Curricular, Competencias, Social Work, Curricular Innovation, Skills
Resumen
En un mundo cada vez más complejo y cambiante, la formación universitaria en Trabajo Social necesita revisar sus enfoques y campos de actuación. Asumiendo este desafío, la Escuela de Trabajo Social perteneciente a la Facultad de Ciencias Sociales (FACSO) de la Universidad Central de Chile, impulsa el proceso de innovación curricular. En este artículo se proporcionan fundamentos para la innovación, se comparten estrategias metodológicas, las etapas seguidas y los productos logrados.

In an ever more complex and changing world, college education in Social Work needs to revise its orientation and fields of action. Acknowledging this challenge, the School of Social Work of the Department of Social Sciences (FACSO in Spanish) of the Universidad Central de Chile, launches the process of curricular innovation. This article provides fundamentals for innovation and shares methodological strategies, as well as the followed stages and the achieved products.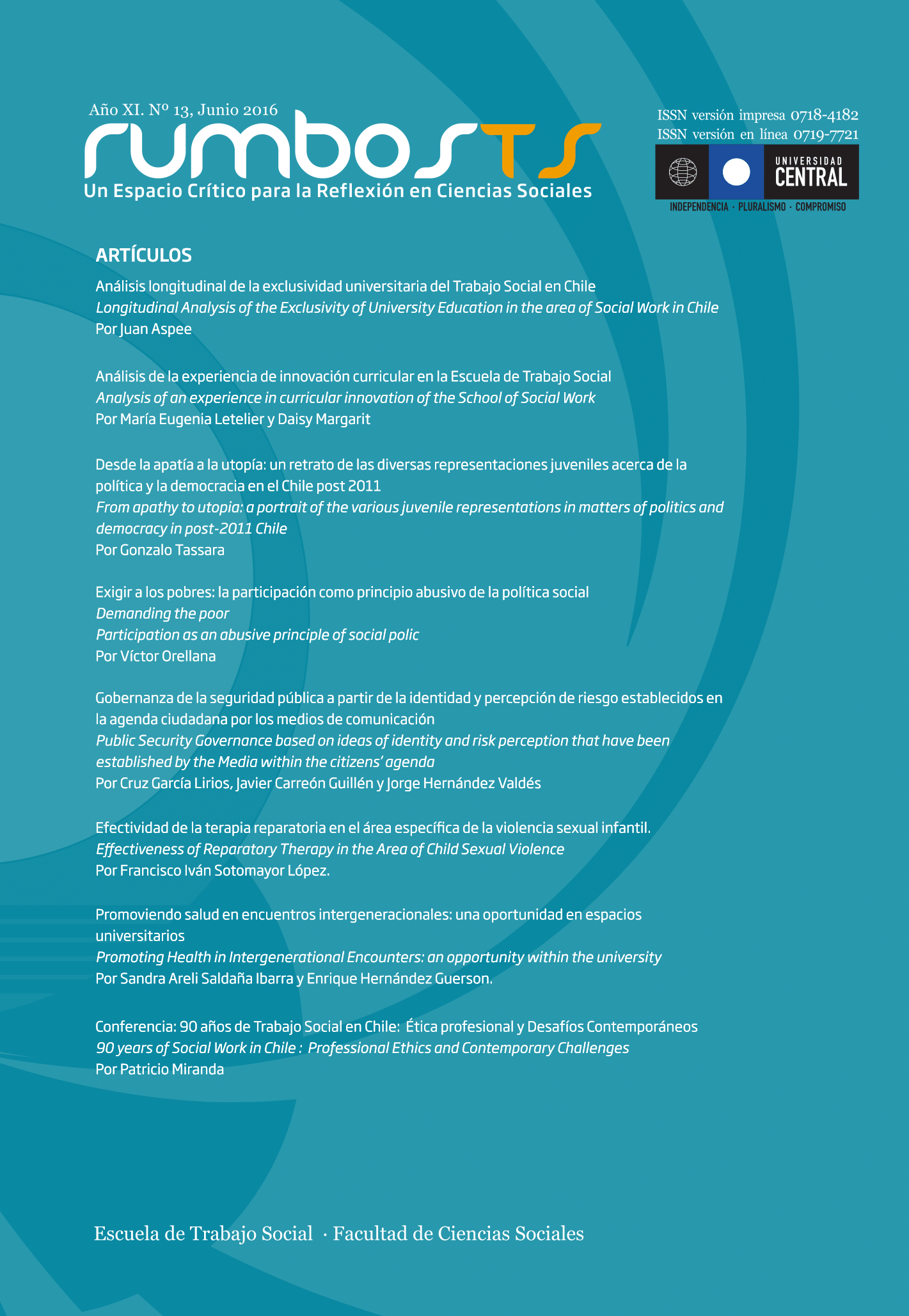 Cómo citar
Letelier G, M., & Margarit S., D. (2016). Análisis de la experiencia de innovación curricular en la Escuela de Trabajo Social / Analysis of an experience in curricular innovation of the School of Social Work. Revista Rumbos TS. Un Espacio Crítico Para La Reflexión En Ciencias Sociales, (13), 33-52. Recuperado a partir de http://revistafacso.ucentral.cl/index.php/rumbos/article/view/58