Análisis Longitudinal de la Exclusividad Universitaria del Trabajo Social en Chile / Longitudinal Analysis of the Exclusivity of University Education in the area of Social Work in Chile
Palabras clave:
Exclusividad Universitaria, Trabajo Social, Mercado Académico, University exclusiveness, social work, academic market
Resumen
El artículo refleja la realidad formativa, en cifras absolutas y relativas, del Trabajo Social en Chile. Según Aspeé (2014) la profesión y disciplina del Trabajo Social se encuentra instipetizada, es decir, que está absorbida por Institutos Profesionales, aunque la formación del trabajo social debería ser exclusivamente universitaria. El objeto del presente escrito es revisar si esta situación retrocedió, se mantuvo o aumentó desde el año 2007 al año 2016. La revisión concluye que la instipetización sigue vigente, aunque existió una clara disminución desde el año 2014 hacia el 2015. Esto da cuenta de una falta de control constante en la aplicación de las normas que rigen la formación del Trabajo Social.

The article reflects the reality, both through relative and absolute figures, of social work education in Chile. According to Aspeé (2014) the profession and discipline of social work has become instipetisized, that is, absorbed by professional institutes, even though education in the field of social work should remain on an exclusively university level. The aim of the following text is to evaluate if this phenomenon has decreased, maintained itself or increased between 2007 and 2016. The review concludes that instipetization is still the norm, despite a noticeable reduction between 2014 and 2015. This gives evidence of a lack of consequent controls in enforcing the regulations that social work education is subject to.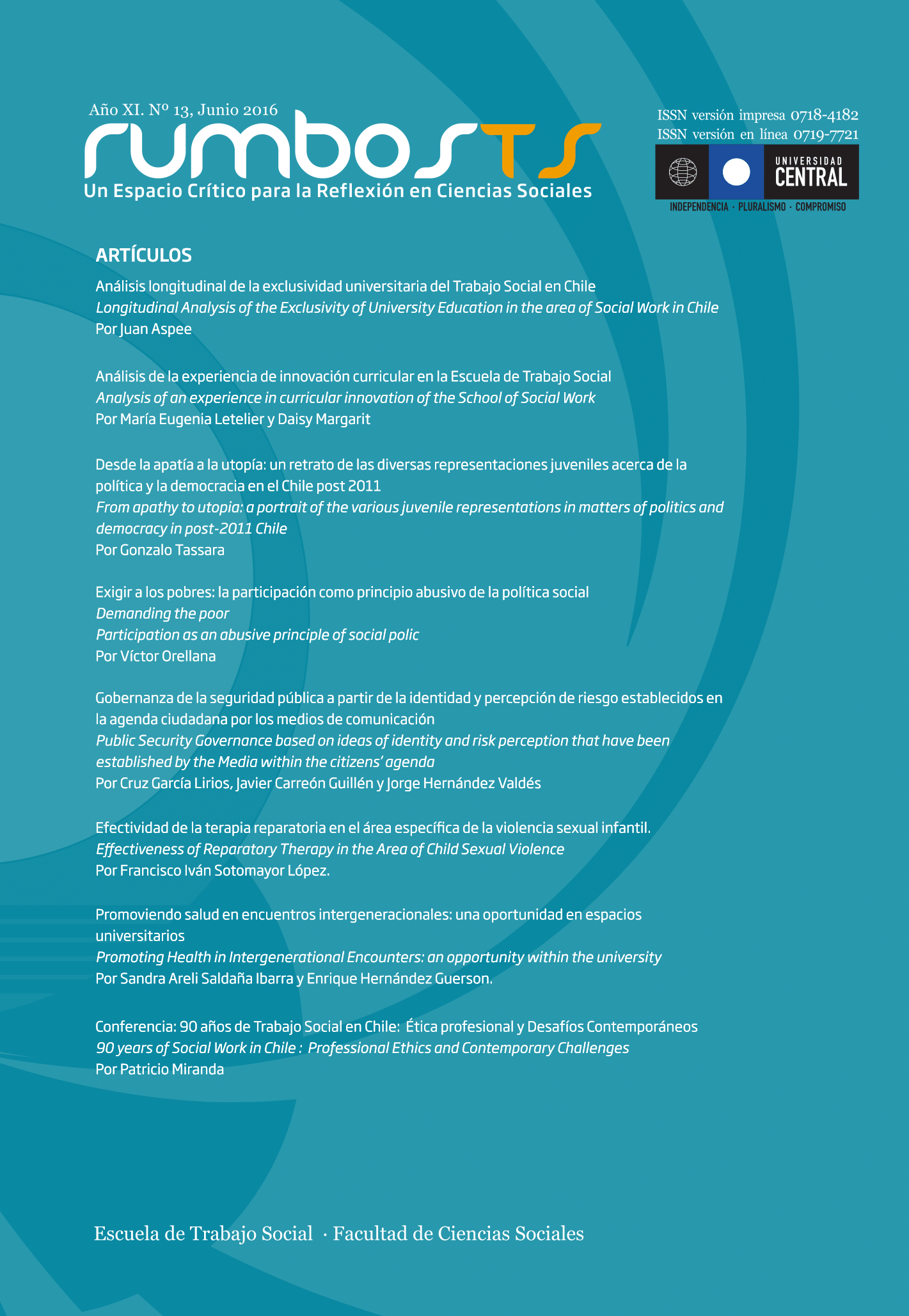 Cómo citar
Aspeé, J. (2016). Análisis Longitudinal de la Exclusividad Universitaria del Trabajo Social en Chile / Longitudinal Analysis of the Exclusivity of University Education in the area of Social Work in Chile. Revista Rumbos TS. Un Espacio Crítico Para La Reflexión En Ciencias Sociales, (13), 10-32. Recuperado a partir de http://revistafacso.ucentral.cl/index.php/rumbos/article/view/57