Imágenes de la Zona Gris del cine documental de Postdictadura en el Cono Sur: Traiciones, memorias del horror y militancias en La Flaca Alejandra de Carmen Castillo y Montoneros: una historia de Andrés Di Tella. / Images of the Grey Zone in film ...
Miguel González Rodríguez
Resumen
A partir del concepto de Zona Gris de Giorgio Agamben, se analiza las traiciones, memorias y militancias en dos películas documentales realizadas en tiempos posdictatoriales en Chile y Argentina. Extendiendo un cruce entre ambas, la figura de la traición de La Flaca Alejandra, en el film de Carmen Castillo, y de Ana en Montoneros, una historia; de Andrés Di Tella, nos permiten observar las representaciones de la memoria militante cuyas narraciones del horror, por efecto de la violencia dictatorial, las fracturas identitarias entran en escena por causa de la violación a los Derechos Humanos. Este cruce permite observar las diferencias históricas de ambos países y las formas de representación de la memoria en el cine documental en un nuevo contexto de democracia posdictatorial.
From the concept Zona Gris of Giorgio Agamben, it´s analized the betrayals, memories and militancy in two documentary films made in posdictatorial times in Chile and Argentina. Exending a cross between them, the figure of La Flaca Alejandra, in the film of Carmen Castillo, and of Ana in Montoneros, una historia; of Andrés Di Tella, allow us to observe the representations of the militant memory whose narrations of horror, by effect od dictatorial violence, the fractures identity come on the scene for caused the violation of Human Rights. This acrossing allows us to observe the historical differences of both countries and the forms of representations of memory in the documentary film in a new context of posdictatorial democracy.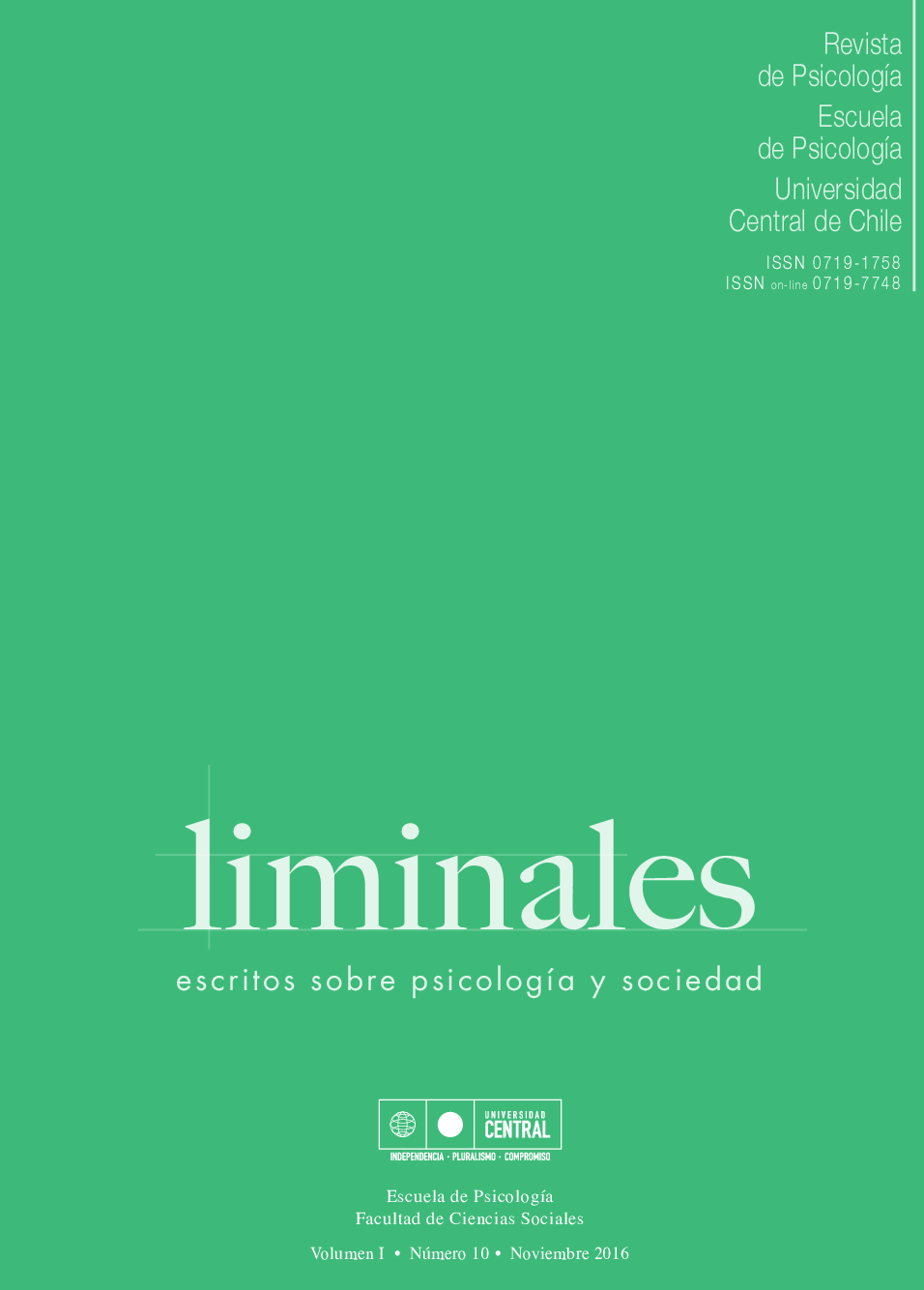 Cómo citar
González Rodríguez, M. (2016). Imágenes de la Zona Gris del cine documental de Postdictadura en el Cono Sur: Traiciones, memorias del horror y militancias en La Flaca Alejandra de Carmen Castillo y Montoneros: una historia de Andrés Di Tella. / Images of the Grey Zone in film . Liminales. Escritos Sobre Psicología Y Sociedad, 5(10), 131-154. Recuperado a partir de http://revistafacso.ucentral.cl/index.php/liminales/article/view/294